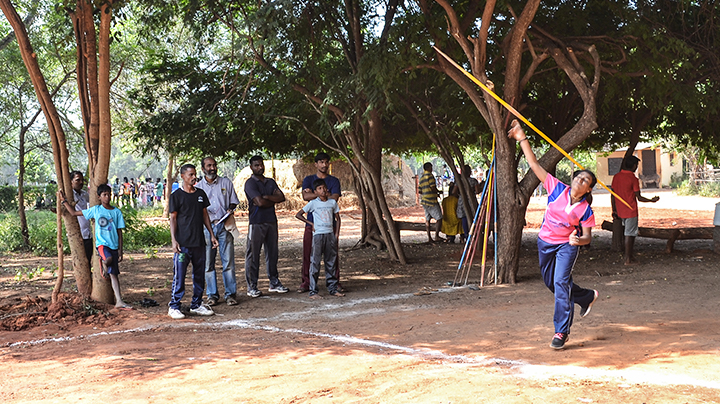 The atmosphere was buzzing with excitement as the women's sports competition kicked off. These women, who come from marginalized backgrounds, were filled with excitement and pride as they prepared for the events ahead.
A few of these women have not partaken in any sporting event before, and many of them had won medals when they were in school. As it happens to many women, after marriage they were denied the chance to participate in any sports or cultural activities. After joining AVAG women's clubs, as the organisation gives them assistance and a safe place to bring out their true selves, they slowly gained the strength to express their desires. On knowing the possibility to attend a state-level athletic meet in January 2023, we were thrilled about the chance to take our women to another great height. 
The tasks in front of us were convincing the women of their potential in sports and convincing the family to support them during coaching and accepting to send them for three days to participate in the meet. The reaction from the families was mixed. Some attended coaching without the knowledge of the family, a few were supported only by the female members of the family, and the rest were able to convince the family.  Few women were treated specially by their families and the communities. But the women stood united to support each other.
29 women, aged between 31 and 82 years, participated in various events including walking, running (5000 m, 2000 m, 200 m, and 100 m), discus throw, javelin throw, long jump, and high jump. The energy in the air was electric as the women took to the field, each one determined to give their best and make a mark. As the events unfolded, the women in their sports attire showcased their talents, and it was clear that they had been training hard for this day. The spectators cheered them on, the women left the field winning 26 medals.
Apart part winning or losing, the exposure the women gained was unforgettable, and they got to see the wider world outside.
At the Pongal celebration at AVAG, the women were recognized and acknowledged for their incredible achievements. They stood tall, their faces beaming with joy and pride. It was a moment of triumph for each one of them, a testament to their hard work and determination. It was a day filled with laughter, joy, and a sense of accomplishment, a day that will be remembered by everyone for years to come.
The women who participated in the event proved that age is just a number, and that with hard work and determination, anything is possible, and their achievements will continue to inspire women around the world for years to come.
Written by Nadia Akcadurak