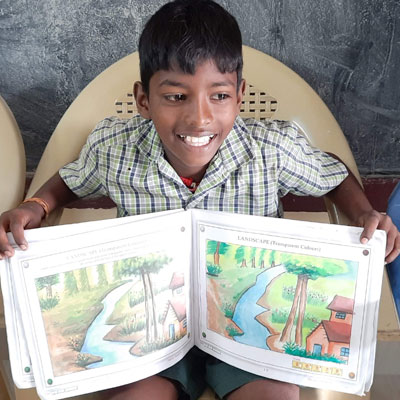 The initiative to provide art supplies to around 3000 students studying in government schools during the pandemic was driven by a desire to support the mental and emotional well-being of young people during a challenging time. The pandemic had disrupted normal routines and caused a great deal of anxiety and uncertainty, particularly for school-age children, who were suddenly faced with the prospect of remote learning and isolation from their peers.
By providing art materials, we aimed to create a positive outlet for the children's energy and creativity, giving them a sense of purpose and accomplishment outside their academic work. The artworks that they produced were not only beautiful but also meaningful, reflecting their experiences and emotions during this unprecedented time.
The Art Appreciation Ceremony was a culmination of this initiative, and it was truly a special moment for everyone involved. Seeing the children's artwork displayed and celebrated in a public setting was a source of pride and validation for them. It also provided an opportunity for parents, teachers, and the community to come together to acknowledge the resilience and creativity of young people during a challenging time.
 'When almost all NGOs working in the communities supported the families with food essentials and other materials, AVAG not only assisted the families, it also cared for the children's mental health. As a resident of the neighbouring village of Auroville, and a school teacher, I appreciate this project of AVAG a lot.  Venkatachalam, Headteacher, Periya Mudaliarchavadi.
Overall, this initiative was not just about providing art supplies or organizing an event. It was about creating a positive and supportive environment for young people to thrive and express themselves, even in the midst of a global crisis. We hope that this effort inspired and encouraged these budding artists to continue pursuing their creative passions, and that it served as a reminder of the power of art to heal and uplift in difficult times.