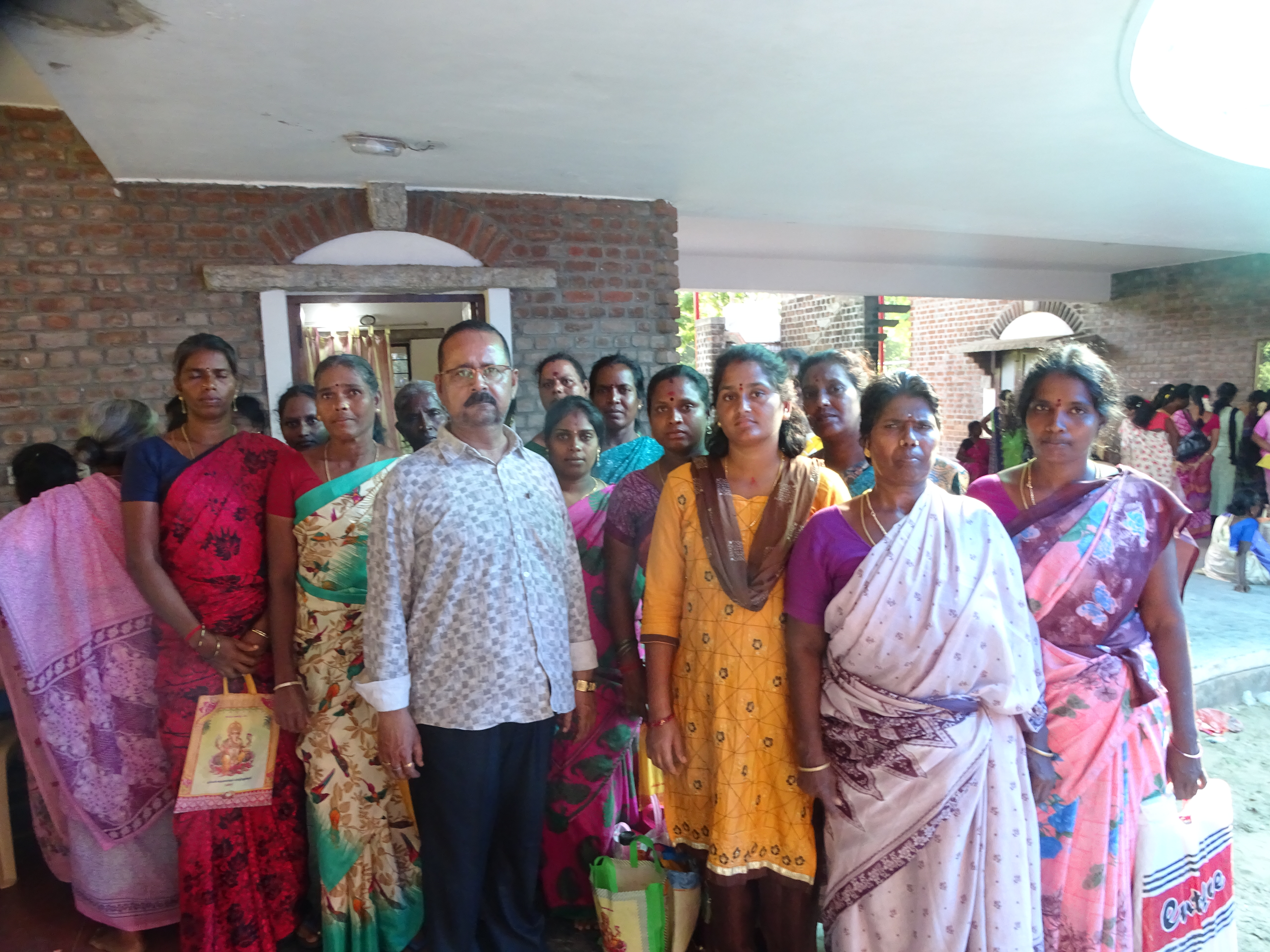 On the 27th of September, 2023, a collaborative effort between AVAG, a dedicated Bank Manager from India Bank,Vivek Maurya, and an official from the Block Development Office Mukya Sevika - Egalvalli came to fruition. This event served as a pivotal moment, offering a chance to bridge the banking disparities that women in the region have long endured through constructive dialogue and actionable change.
The predicament these women faced during bank transactions was far from ideal. Language barriers and technical glitches often transformed routine banking tasks into frustrating experiences.
Gajalakshmi, a valued member of the Thangamalar Women's Club, vividly recalls the issues raised at the seminar. "When we visit the bank for transactions," she begins, "we feel lost and confused by manual entry issues and the frequent malfunctioning of entry machines."
"What's more," Gajalakshmi adds, "several banks in the area primarily conduct business in Hindi, further adding to our difficulties."

This time, however, with Ms. Anbu Sironmani serving as their interpreter at the seminar, the women successfully transcended the language barrier when articulating their grievances to the new bank manager who pledged to address these problems.
Sharing her unique perspective, Jaya, a steadfast member of the Kulavillakku Women's Club adds, "Our passbook transactions often encountered roadblocks," she observes. "However, the recent agreement with the bank manager will now allow for assisted, convenient and speedy transactions to take place at AVAG itself." This newfound flexibility has ignited the women's hopes for smoother banking experiences.
Nadia, a committed member of the Sri Annay Women's Club, volunteered to be a part of this significant event. She astutely points out a pressing issue that affected many: "We were restricted to transactions of up to Rs. 49,000 only, even when dealing with multiple transactions or accounts." However, the interactive nature of this seminar has left a profound impact. Nadia reflects, "Having one-on-one interactions like these truly makes us feel heard."
Moreover, the Mukhya Sevika, Egavalli at the Block Development Office, took the opportunity to enlighten these women about various government schemes. This included insights into programs aimed at supporting girls' higher education, widow remarriage, and the children of single mothers. Gajalakshmi elucidates, "There is even a scheme designed to assist families with two female children." Armed with this knowledge, the representatives from each club are committed to disseminating this valuable information to their peers. "My daughters have already grown up, so I couldn't benefit from this scheme. However, now I plan to guide another member in my group, who has a newborn second female child, ensuring she avails of this opportunity."
In a gesture of goodwill, the Mukhya Sevika generously shared her contact details with the women, offering them a lifeline in times of difficulty. Jaya reflects, "I'm truly grateful to be here today. If I had been at home, I would have missed out on this valuable information."
Buma Devi, representing the Tharampur Women's Club, confidently says, "Knowing that our queries will be heard and addressed is immensely reassuring." Her statement encapsulates the newfound sense of empowerment resonating among the women, further fueling their pursuit of financial inclusion and equitable treatment.
Finally, true to their mission, Gajalakshmi goes on to affirm the significance of AVAG and their belief systems, concluding with "We are warmly welcomed at AVAG, where equality is not just a promise but a practice."
Written by Shevaughn Pimenta